Samsung Galaxy A11 (S115DL)
Samsung Galaxy A11 (S115DL)
is rated out of
5
by
120
.
SPEED 4G LTE/Wi-Fi® Connectivity
USAGE TIME up to 1.08 days
DISPLAY 6.4'' HD+ TFT LCD 720 x 1560
STORAGE Memory 32GB - Storage 2GB RAM
CAMERA 13MP Rear Camera/Video Recorder
DIMENSIONS 6.42'' x 3.00'' x 0.31''inches
Introducing the new A Series.
The Samsung Galaxy A11 combines smartphone essentials with the trusted reliability of Samsung. Take crisp, clear photos and videos with our powerful triple lens camera. Enjoy cinematic clarity on our 6.4'' edge-to-edge display. Keep going with a long-lasting battery that keeps going with you throughout the day.

In the next step, you will have the option to bundle your Phone with one of our no-contract plans.
A Service Plan card is required for activation. Plans are not returnable or refundable. Service Plan card is required for activation. Text SAS115DL to 611611 for mobile tutorials.
---
Rated

1

out of

5
by
lhiggo9105
from
HATE IT!!!!
i got the a11 as a christmas gift. i absolutely hate the phone!! it is unbelievably slow!! and i mean ridiculously slow!!!! it has no indicator light for calls/text messages. takes forever to charge. it is slow!! camera sucks. it is too big, in particular the width, especially for a female to hold. did i mention that it is slow!! you can rest assured, if i had not been given the phone as a gift, i would go back to my old phone (the s8). please do not waste your money on this phone!!!!!! you know the saying "you get what you pay for "? no truer words were ever spoken when they are talking about the a11.
Date published: 2021-02-04
Rated

3

out of

5
by
Paul W
from
Glaring issues
the quality of sound and graphics are good but there are some very irritating and important shortcomings. first of all, the phone locks up as soon as the screen goes dark, even though it sits in my home office all day and i've set it to stay unlocked there. i keep having to unlock it over and over all day. second, there is no indicator light to tell me i've received a text or voice mail. i have it set to give a tone, but the tone only comes once. after that, i have no way to know unless i unlock it, and that is unhelpful to my work. if you don't want to give it an indicator light, then how about a recurring tone every minute or two until it is checked?
Date published: 2020-11-02
Rated

3

out of

5
by
JLB2
from
Camera is not as good as the older versions.
i expected alot when i got this phone. i wish i had kept my galaxy edge. this camera is slow and many pics are blurry. also, i can't answer any phone calls from the main screen. it's a pretty phone but nothing like the edge. even the search function on google is slow. i'm so disappointed. i wish i could take it back and get a different phone.
Date published: 2020-08-11
Rated

4

out of

5
by
Manic
from
Good for the price!
i upgraded from an a10e to this phone (a11). i personally love it, though i do want the fancy camera of the s10 so i may upgrade soon again. this is a great phone and i recommend it to anyone that wants a great phone for a cheaper price. it has 3 good back cameras, though there is a delay in the photo taking. otherwise it runs good and takes great pictures.
Date published: 2020-09-03
Rated

4

out of

5
by
Tennessee
from
overall pretty happy
two complaints i do have is there is a glitch with my camera app that it does not come up with the picture 'button', i have to close out app and go back in to resolve. and sometimes it just starts freezing up /going super slow and need to turn phone off and then back on and everything is fine.
Date published: 2020-09-04
Rated

3

out of

5
by
Joker
from
The unlimited talkband text
got this phone couplevweeks ago had to make couplevtrips back to the store with few problems thevring volume is weak harldly hearvit whenbut rings the volume is set to highest level when gets notification only weak beep to let you know you have a notification wantedva blinking light to letvyiu you when cwhen away from there phone had everything transferd over lost all contacts hadvto call and get it set to do everything over finally got it back not a happy camper with the phone would likevto trade it for some thing else was told no won't buy one like this again
Date published: 2021-03-03
Rated

2

out of

5
by
Deja
from
Just okay
the phone itself is just okay. the camera is terrible and the battery life isnt the greatest .
Date published: 2020-11-11
Rated

3

out of

5
by
Old Woman IX
from
It does charge fast. For now.
it's not the fanciest phone available, but it works fine for me. i don't have a high demand for features. in fact i really don't like that so many apps are preloaded. i wish samsung and google would get together and choose which one of them will appear on samsung phones. i vote google. it just seems that there are multiple apps that do the same thing. the fact is this isn't even a phone it's a computer. but that aside , give me the basics and let me get the rest at play store.
Date published: 2020-10-08
Specifications
SIZE 6.42'' x 3.00'' x 0.31''inches
STANDBY TIME up to 22.25 days
WEIGHT 6.31 oz
BAND (FREQUENCY) 4G LTE
INCLUDED BATTERY Included Battery 4000 mAh Lithium-ion
HEARING AID M4/T3
TALK TIME up to 22.25 hours
What's in the Box?
Includes Galaxy A11 Phone
Charger
Battery
Activation Card
Services Guide and Quick Start Guide.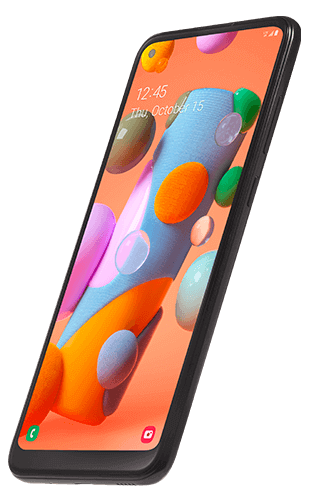 A Service Plan card is required for activation. Plans are not returnable or refundable. Service Plan card is required for activation. Text SAS115DL to 611611 for mobile tutorials.
WARNING: Reproductive Harm - www.P65Warnings.ca.gov
More features
Charge up. Power through:
Spend more time scrolling, texting, and sharing, and less time looking for an outlet to charge. This long-lasting battery has the power to keep up with you.
Take your entertainment to the edge:
Keep in touch with friends and family, and watch the news with plenty of room on a crystal clear 6.4" edge-to-edge display.
Three lenses. Endless potential:
Capture shareable portraits, wide shots and videos with this versatile triple lens camera.
Store more:
Keep all your photos and apps without worrying about storage. And get up to 512GB of storage with a microSD card (not included).
We are sorry but this device is not available currently!
Please add your email and we will notify you when this device can be purchased: SUBMIT
*TETHERING TO ANOTHER DEVICE IS PROHIBITED. OTHER LIMITATIONS APPLY. Please refer to your terms and conditions.