SAVE $30! Plan purchase required..
Samsung Galaxy A10e (S102DL)- RECONDITIONED
Samsung Galaxy A10e (S102DL)- RECONDITIONED
is rated out of
5
by
267
.
SPEED 802.11 a/b/g/n, 2.4 GHz, Bluetooth v5.0
USAGE TIME up to 18.2 hours
DISPLAY Display 5.83'' HD+ 720 x 1560
STORAGE 2GB RAM - 32GB ROM
CAMERA 8MP main camera, 5MP front-facing camera
DIMENSIONS 5.8'' Screen Display
Introducing the Samsung Galaxy A10e.
With the Samsung Galaxy A10e, you get exactly what you need with the performance and reliability from a brand you can trust. Do more with a long lasting battery, keep all of your stuff with a 32GB built in memory, and experience it on a 5.83'' edge-to-edge Infinity Display. Finally, the phone you need to keep connected with friends and family and at just the right price.

In the next step, you will have the option to bundle your Phone with one of our no-contract plans.
A Service Plan card is required for activation. Plans are not returnable or refundable. Service Plan card is required for activation. Text SAS102DL to 611611 for mobile tutorials.
---
Rated

5

out of

5
by
Belinda
from
Great experience
I've had the S-G A10e phone for several months now and it's working great. I've been with Tracfone a few years and am now on my 5th upgrade. My first 4 were LG's which were great, but Samsung seemed to have the better phone option for me this time around. There is actually a bit of difference from the switch and after getting use to those differences it's all good. Switching everything to the new phone was fast and easy. I don't "live" on my phone, I don't really do any gaming or streaming, I talk, text, browse the internet and listen to music on occasion and I've had no problems.
Date published: 2020-07-16
Rated

3

out of

5
by
Alex2k20
from
Its not bad
I like this phone and all, but what really annoyed me was that its not a 5mp front camera at all. In fact, it's a 3mp camera, so it's actually doesn't have what the box and website tell you. My previous phone had a 5mp camera and looking at the two pictures between both phones is actually shocking. it may not seem like a lot but it really shows. However, the rear camera is indeed 8mp and takes nice pictures. I installed games such as call of duty mobile and it runs smoothly. Overall this is a good phone, but the front camera is not what it says it is.
Date published: 2019-12-06
Rated

5

out of

5
by
Tom W2
from
Pleasantly surprised
This phone has a nice sized screen with small bezels, so it's not too big to carry in your pocket. Reception is great and sound quality is excellent and the ring tones are LOUD, if desired. Comes with Android 9 with plans to update to 10. A great value, considering the reasonable price.
Date published: 2019-12-02
Rated

5

out of

5
by
anonymous1
from
Great phone with lots of storage!
I love Samsung brand, but needed more storage.Transferring my number and all my contacts and apps only took minutes. The only thing I miss is the physical home button, but most of the new phones have it part of the screen. This phone is fast and has the latest Android operating system. I love the larger screen.
Date published: 2019-11-11
Rated

5

out of

5
by
mommom 21
from
Wonderful features
Purchased this phone a few weeks ago & I love it! Great reception, camera, larger screen, battery talk time & very easy to use. I would recommend this phone to anyone looking to upgrade their phone. Very pleased with my purchase.
Date published: 2019-12-09
Rated

5

out of

5
by
TnGrnEyez
from
So easy to use!
I love my new phone!!! I am really enjoying how simple the Samsung Galaxy A10e. It is so easy to use, voices are clear when on the phone, makes beautiful photos. So glad that I picked it over an Apple product.
Date published: 2019-11-20
Rated

5

out of

5
by
EricH62
from
Surprisingly Good
In short: if all you need is a phone for voice calls, save your money; plenty of inexpensive phones for that. If you are looking for video calling, web browsing, texting, light gaming, GPS navigation, etc, then give this a serious look Features that attracted me: Dual band WiFi (2.4/5GHz), 2GB RAM, 32GB ROM (storage for operating system and apps), 5.8" screen, Blue Tooth v5, Android 9 Pie (latest release of Android), the Samsung brand. One important feature not in the description - Mobile Hotspot functionality, a definite plus. I've been impressed with this phone from the moment I turned it on. I find it to be surprisingly fast, stable, good amount of internal storage (expandable to 512GB with microSD card), sharp and crisp display, good audio. When I say fast, I am referring to app switching and loading, as well as downloading and installing. I downloaded and installed 5 app updates in about 90 seconds using my WiFi. On my old phone, I could pretty much make a sandwich, pour a cup of coffee, sit down and eat before that would finish. Interface has a lot of options to customize it. For example, the default layout for the Navigation bar had the buttons for Last Used and Exit reversed to what I was used to. Hop into settings and change it. Several settings to adjust the Home Screen layout, down to how tightly packed the icons appear on screen. Night mode, Outdoor mode, dark theme, brightness, even a section to review how much time you spend in various apps and setup a timer to turn off notifications just before bed time. Supports facial recognition as well as passwords or PIN to unlock the phone. Call quality is surprisingly good as is the overall sound. I am getting a good cell signal in places my old phone had a lot of trouble with. Have only taken a couple test pictures, without adjusting default settings. Flash is off by default, and in normal room lighting the pictures seemed a bit bright, but sharp and clear. A surprisingly good phone, with a lot of features for the price.
Date published: 2019-11-16
Rated

5

out of

5
by
Loretta67
from
Love this smart phone
I bought this phone a couple of months ago to use as a backup for a smartphone that was developmentally challenged. It has since replaced that phone completely. I use it with wifi at home instead of wasting my data and find myself using it instead of my computer. The only beef I have with it is when I had to call 9-1-1. The next morning there was a notice on the home screen saying that because I called 9-1-1 the phone unblocked all of my blocked numbers, so the insurance sales calls for a previous owner of the number started back up again. They finally stopped for the most part. This phone is fast. I'm not used to smartphones so it's taking some getting used to learning how to do different things with it. I love the camera and the editing features. I could never understand why young folks have their phones glued to them. Now I see why. Guess I didn't realize how much a phone can do. I have games on it, all kinds of apps on it and have plenty of room for more. I wish there was a way to put the apps on my SD card instead of the phone's memory. If there is, I haven't figured it out yet. All and all, I'm happy with my purchase and would do it again.
Date published: 2020-04-02
Specifications
SIZE 5.8'' Screen Display
STANDBY TIME Standby time up to 17 days
WEIGHT 5.9 oz
BAND (FREQUENCY) CDMA
INCLUDED BATTERY Li-Ion Battery
HEARING AID M3/T3
TALK TIME up to 18.2 hours
What's in the Box?
Includes Galaxy A10e Phone
Charger
Battery
Activation Card
Services Guide and Quick Start Guide.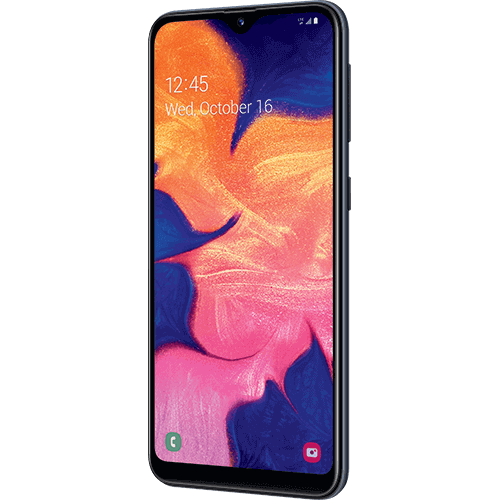 A Service Plan card is required for activation. Plans are not returnable or refundable. Service Plan card is required for activation. Text SAS102DL to 611611 for mobile tutorials.
WARNING: Reproductive Harm - www.P65Warnings.ca.gov
More features
RAM:
Don't worry, keep it all: Keep more with 32GB of built-in memory, so you can keep all of your photos, shows, movies and apps, without having to delete to make room. If you need more storage, expand your memory up to 512GB with a microSD card and store up to 100,000 photos.
CAMERA:
Capture the moment: The Galaxy A10e lets you make everyday moments special. Take crisp, clear photos with an 8MP rear camera and perfect selfies with the kids on a 5MP front camera.
BATTERY:
Long-asting battery: With a long-lasting battery, the Galaxy A10e gives you more time to post, talk, text and share with friends and family.
DISPLAY:
Go edge-to-edge: Enjoy a bold, bright viewing experience on a 5.83'' screen. With an Infinity Display that goes edge-to-edge, you can see more story before you scroll.
We are sorry but this device is not available currently!
Please add your email and we will notify you when this device can be purchased: SUBMIT
*TETHERING TO ANOTHER DEVICE IS PROHIBITED. OTHER LIMITATIONS APPLY. Please refer to your terms and conditions.