SAVE $20! Plan Purchase Required.
moto e5 (XT1920DL)
moto e5 (XT1920DL)
is rated out of
5
by
129
.
SPEED 4G LTE/Wi-Fi Connectivity
USAGE TIME Talk time up to 32 Hrs
DISPLAY 5.7'' HD+ 18:9 display
STORAGE Internal Memory 2GB RAM + 16GB ROM
CAMERA 8 MP Rear Camera/Video Recorder
DIMENSIONS 6.08'' x 2.84'' x 0.35'' inches
See more. Do more.
Long battery life, a huge display, and a great camera – what more could you ask for? The Motorola moto e5 is rugged, featuring a water-repellent coating that keeps out rain and spills. The HD Max Vision screen measures 5.7 inches, making it great for videos and games. And with a fingerprint reader and autofocus camera, all your must-have specs are packed into its slim design. Should you buy the moto e5 or a moto G6? They have the same screen size, Bluetooth functionality, and front-facing 8MP cameras. Overall, the moto e5 is the better choice if you're looking for longer battery life and a more affordable price tag.
In the next step, you will have the option to bundle your Phone with one of our no-contract plans.
A Service Plan is required for Activation. Plans are not returnable or refundable.
---
Rated

5

out of

5
by
Librarylover
from
Delighted!
After a couple of decades with 'dumb-phones' I finally decided to move up into a smart phone, but still didn't want to spend a lot of money. The positive reviews and moderate price sold me on this one. I've had it for 2 weeks, and am delighted. If there is anything a 3-figure smart phone can do that this one can't, I haven't found it yet, and/or don't need it and can't imagine I ever will. Phone, text, apps, internet, camera, email, GPS, Kindle and more that I'm sure I haven't found or explored yet. Battery life is solid and I've had no problem with reception or dropped calls. (One of the main reasons I decided to move up.)
Date published: 2019-08-13
Rated

5

out of

5
by
OneEyedKristy
from
Love this phone!
I recently purchased this phone and it is awesome! The 5.7" screen makes it easier to read. Lots of storage space after all the updates. This runs Android 8.1 and is CDMA compatible and on the Verizon network (I live in the country and this is vital to my having reception). It doesn't have a notification LED light that blinks, but it does have Moto Display which will show the time and any notifications discreetly when the phone is sleeping and you pick it up. I highly recommend this phone. It has the same quality as the original Moto E and Moto E2 but with a lot more bells and whistles. Finding a phone case may feel challenging, but cases for the Moto G6 Play will fit this phone.
Date published: 2019-07-18
Rated

4

out of

5
by
Metaphor
from
ME5 or Moto e5 (XT1920DL)
I want to say that this my only (moto e5) phone that does not have a removable battery, but I am not sure that is matters as my other two phones do and to think we may get 3-5 years out of a phone may not be relevant. I think that we will change phones because they become slower and obsolete? This Moto e5 meets my expectations and I am quite pleased with it. The display is 5'7, with an Oreo 8.0.1 OS. The quick charge is convenient, The processor speed is 1.4 ghertz with 2.0 ram is about standard in most phones at this price range. The non-removable battery is 4000 maH. THE ONLY THING I FIND IRRITATING IS THE SETTINGS SYMBOL FOR MOBILE DATA..... IS CONFUSING. In closing: for the money, u can't go wrong with this phone. JPG, Portland, OR
Date published: 2020-01-03
Rated

5

out of

5
by
Jorge
from
Motorola!!
I bought this phone in January. It is a great phone. Sleek and slick, fits in my hand easily! Fast, bright and no problems at all. I like the dual app option available on most apps. Watching anime or Netflix is sweet on this phone. Battery lasts all day, can last two days if only used for calls. I can listen to music all day from my phone, and still have power left over. Charges in two hours or less most of the time. A great, all around cell phone for email, web browsing, music, movies and those who are app savvy. I love how I can shake the phone to turn on the flashlight, or twist my wrist to open my gorgeous, Hd+ camera. My only gripe ia that Ram is too low for my needs. I use clean master app to clear out space, so it works out.
Date published: 2019-07-07
Rated

3

out of

5
by
Anonymous
from
Still learning
I was told I had to upgrade. My old phone was good but upgrade I did. I wanted a small one like I'd had. Only bigger ones offered. And it has loads of stuff on it. Stuff I don't want and it is very hard to get it off. It is complicated. An extra unnecessary step to make a phone call. News alerts all the time. I'm learning how to get most of those off. Tons of stuff to find and edit, yet. But I want more than a flip phone. I know it is great to have all that stuff at your fingertips but it should be presented in a way that it would be easy to edit to simplify to one's own needs and wants. It's no doubt a lovely phone if you want everything imaginable.
Date published: 2020-10-25
Rated

5

out of

5
by
ChronoMaster
from
Motorola Phones are the Best!!
I am glad to see that you guys added a higher quality of devices to use with the prepaid services. I worked for Motorola back in the 1980's and nay product they create has way more productivity than Samsung or Apple, this phone is a great customization device and you can remove all the unwanted apps on the phone to free-up more space!! Good work Guys!
Date published: 2019-01-24
Rated

4

out of

5
by
Deejay319
from
Nice upgrade
I had a smaller Samsung phone. Wanted a bigger phone. 5.7 is a nice size. Easy to transfer phone number and minutes to new phone. Also, tracfones app made it easy to transfer info from old to new phone. Like most features on the phone.
Date published: 2018-12-04
Rated

4

out of

5
by
Ibetheman
from
good budget phone
I've had this phone for ~2 weeks. No issues so far it is fast and reliable. Much better than the previous [Samsung Luna]. Have taken a few pictures that were ok. This is a good budget phone
Date published: 2018-10-03
Specifications
SIZE 6.08'' x 2.84'' x 0.35'' inches
STANDBY TIME Standby time up to 10 days
WEIGHT 6.1 oz.
BAND (FREQUENCY) Technology: CDMA/LTE
INCLUDED BATTERY Built-in Battery Lithium-ion 4000 mAh
HEARING AID M3/T3
TALK TIME Talk time up to 32 Hrs
What's in the Box?
Includes Charger
Battery
Activation Card
Services Guide and Quick Start Guide.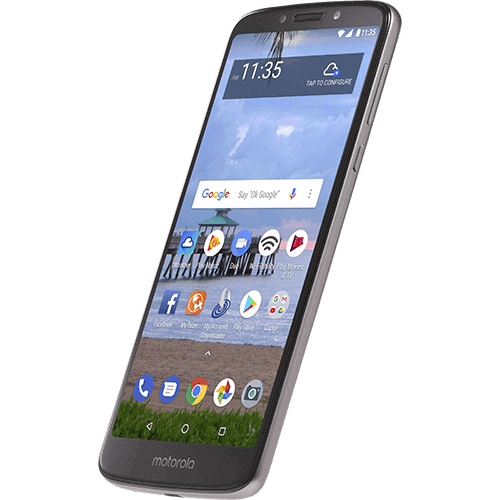 A Service Plan is required for Activation. Plans are not returnable or refundable.
WARNING: Cancer and Reproductive Harm - www.P65Warnings.ca.gov
More features
Android™ 8.1 Oreo™ OS:
Enjoy smooth, fast, reliable performance. Extra security measures and better Wi-Fi connectivity help enhance the wireless experience further.
16GB ROM/2GB RAM:
If you need more storage to hold your photos and downloads, just get the expandable microSD memory card. It bumps you up to 128GB.
8MP camera:
Autofocus allows you to capture quick, clean photos. With minimal blurriness, your gallery will be ready to upload and share with friends right away.
4000 mAh battery:
The battery is non-removable and big enough to power you all throughout the day. It charges fast, too, thanks to TurboPower, to help get you back to 100% in no time.
5.7-inch Max Vision display:
The Max Vision display does exactly what it says: maximizes your screen with vivid colors and sharp details.
We are sorry but this device is not available currently!
Please add your email and we will notify you when this device can be purchased: SUBMIT
*TETHERING TO ANOTHER DEVICE IS PROHIBITED. OTHER LIMITATIONS APPLY. Please refer to your terms and conditions.