SAVE $20! Plan Purchase Required.
TCL A1X (A503DL)
TCL A1X (A503DL)
is rated out of
5
by
113
.
SPEED 4G LTE/Wi-Fi®
USAGE TIME Talk time up to 2G: 20hrs, 3G: 15hrs, 4G: 12hrs
DISPLAY 5.5'' HD FWVGA+ 18:9 Display
STORAGE Internal Memory 2GB RAM / 16GB ROM
CAMERA 13MP rear camera with LED flash
DIMENSIONS 5.76 x 2.7 x 0.33 inches
The TCL A1X offers premium smartphone features for a great price. Dual-rear cameras provide vibrant, high-quality pictures, which can be fully enjoyed on the spacious 5.5-inch HD+ Full View Display. Paired with a large 3000mAh battery, fast processor, and the latest Android apps so you can read more news, check more social updates, and surf the web with ease.

In the next step, you will have the option to bundle your Phone with one of our no-contract plans.
A Service Plan Required for Activation. Plans are not returnable or refundable.
---
Rated

1

out of

5
by
BMJA
from
Returned this phone
Returned this phone I tried for 3 days to get this phone to work. I lost approximately 4500 minutes and 1.5 GB trying to get this phone to work. The only thing that transfered was my service time. When trying to make a call on it, it would want to connect me to an outside operator so I could place my call with a credit card. I had to reset to factory settings to get the service to work. When I reloaded my apps it went back to wanting to connect me to an outside operator again. I returned this phone and went with a totally different phone and had no problems. On a scale of 1 to 10, I give this phone a 0.
Date published: 2019-06-23
Rated

5

out of

5
by
Weatherfreak01
from
A very good phone
I upgraded from an old Lg model and am very pleased! This phone is very fast, efficient, and just all around great to have. It was a huge upgrade for me, and I have read reviews where others were complaining about the very things I am complementing and it boggles my mind. I'm just not sure how a phone is suppose to be any faster. I really can't compare it against the more expensive galaxy phones, except hundreds of dollars. I highly recommend this model for your basic phone needs.
Date published: 2019-01-30
Rated

1

out of

5
by
jann w
from
frustrating!!
So far this morning, I've spent 5 hours on this phone and haven't even got to the phone part. Rereading the description, it touts all the features but the phone. Be warned. I have a computer and don't need another one. It makes me sign into wifi and google and then tells me all my freshly made passwords are invalid. I've tried holding the home button to get to the phone part....nothing happens. I've stalled on the keyboard instructions and the QR code...both seem to be on an endless loop with no way to advance. So far, I really really hate this....
Date published: 2019-05-14
Rated

1

out of

5
by
Butch Bianco
from
All features work, but sound VOLUME is horrible.
I like the phone, but with all the volume settings turned up to their highest level, I can barely hear the phone ring. As for playing a .mp3 song, forget about it. This is a copy of the initial review I submitted, but tracfone will not add my review. All I get is an email that my review is posted. Where? This phone is NOT for you if you need a little volume for alarms, notifications, etc...
Date published: 2019-01-28
Rated

5

out of

5
by
User1234
from
Love this phone
I bought this phone about 3 weeks ago and I just love it. It's fast and for the amount I use a mobile phone the price was very good. It also has a battery that can be replaced. I am very happy with this purchase.
Date published: 2018-12-31
Rated

5

out of

5
by
tomsters
from
Nice upgrade to the J3 Luna Pro
I bought this Samsung Galaxy J3 Orbit smartphone to replace my trusty and excellent Samsung Galaxy J3 Luna Pro... the Orbit is an upgrade in a number of areas, including a faster octa core processor, more RAM at 2GB versus 1.5Gb and better cameras giving us 8MP and 5MP shooters versus the Luna Pro's 5/2 cameras. Overall, I like the phone.. it's fast, comes with Oreo 8.0 and takes good pictures,..clearer pictures than the Luna Pro. The call quality is good, and with the voLTE switch on in mobile networks, it has HD Voice with sounds great. I like the 5 inch screen size it has just like the Luna Pro since for me this is easier to carrier than the increasingly popular 5.5 inch size. My only complaint is the screen is a little sensitive so I sometimes end up touching it with parts of my hand while holding it which changes the home screen mode. I'm making adjustments to deal with it. I've only had the Orbit a few days now so time will tell how well it really performs, but so far, I think its a pretty good phone and I'm glad I bought it. Thanks.
Date published: 2019-02-19
Rated

5

out of

5
by
tailgunner45
from
Great upgrade
Bought two of these phone replace 2 LG phones in December. What a difference four years makes in tech. Much faster processor, and more storage and memory. Touch screen is more responsive. Also like that I can up to 200 GB storage with compact memory card. Battery life is also a great improvement over previous phone. For the money this is an great upgrade.
Date published: 2019-02-27
Rated

2

out of

5
by
geri d
from
DO NOT BUY!
normally don't have issues with Samsung phones but this one is a dud. I wanted a more recent OS than current Samsung as some of the apps were not working properly with the updates they made. This phone has been bad from the start-apps not working properly, changes ring and notification tones on it's own, doesn't notify me at times. Only decent feature is the camera picture quality. Have only had for about 5-6 months and already feel like I need to get a new phone...
Date published: 2019-06-27
Specifications
SIZE 5.76 x 2.7 x 0.33 inches
STANDBY TIME Standby time up to 2G: 450hrs, 3G: 420hrs, 4G: 300hrs
WEIGHT 4.62 (ounces)
BAND (FREQUENCY) Technology: CDMA/LTE
INCLUDED BATTERY Battery 3000mAh Lithium-Ion
HEARING AID M4/T4
TALK TIME Talk time up to 2G: 20hrs, 3G: 15hrs, 4G: 12hrs
What's in the Box?
Includes Charger
Battery
Activation Card
Services Guide and Quick Start Guide.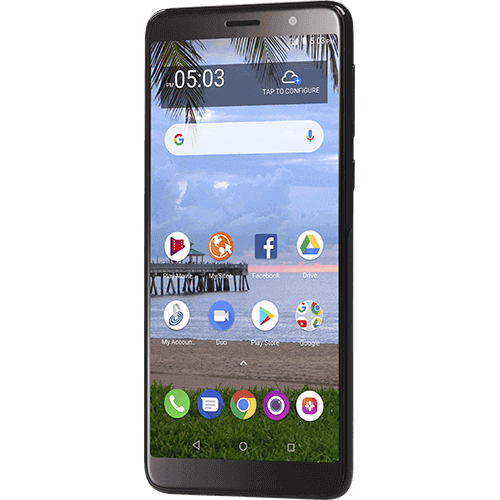 A Service Plan Required for Activation. Plans are not returnable or refundable.
WARNING: Cancer and Reproductive Harm - www.P65Warnings.ca.gov
More features
MAXIMIZED SCREEN - MINIMIZED BODY:
The 13MP + 2MP depth sensing rear cameras allow you to focus on your subject in real-time with a blurred background effect for Portrait Mode photos that stand out.
RELIABLE PERFORMANCE, ALL DAY:
The power-efficient 3000mAh battery keeps up with the large display and a powerful processor, which can handle your fast pace and today's latest apps.
THE BEST OF ANDROID:
The TCL A1X comes with the latest Android apps and features including Google Assistant, which helps you get things done and find answers on-the-go, using just your voice. Google Assistant can manage hundreds of tasks and services - it's your own personal Google, always ready to help.
DISPLAY:
Spacious 5.5-inch 18:9 Full View Display into a sleek, compact smartphone with narrower borders.
We are sorry but this device is not available currently!
Please add your email and we will notify you when this device can be purchased: SUBMIT
*TETHERING TO ANOTHER DEVICE IS PROHIBITED. OTHER LIMITATIONS APPLY. Please refer to your terms and conditions.