LG Rebel 4 (LML212VL)
is rated out of
5
by
24
.
SPEED 4G LTE Network
USAGE TIME Talk time up to 16 Hrs
DISPLAY 5.0'' HD TFT (IPS) 1280 x 720 Display
STORAGE Internal Memory: ROM: 16GB - RAM: 2GB
CAMERA Rear: 8MP Autofocus / Front: 5MP Fixed Focus
DIMENSIONS 5.70'' (H) x 2.83'' (W) x 0.31'' (D) inches
Dare to be Exceptional.
Quad-core technology and advanced specs make the LG Rebel 4 perfect for any tech enthusiast. And no matter how much data you need, Net10 Wireless has you covered. For added connectivity, the LG Rebel 4 can also be used with one of our mobile mobile hotspot devices. These devices allow you to share an Internet connection using an unlimited data plan, so you can always stay on top of news and events. For more information about using a hotspot with an LG Rebel 4, visit our FAQ page. For compatible accessories, such as USB cables, phone cases, earphones, and more, visit the Net10 Wireless Accessory Shop.
In the next step, you will have the option to bundle your Phone with one of our no-contract plans.
A Service Plan Required for Activation. Plans are not returnable or refundable. Text LGL212VL to 611611 for mobile tutorials.
---
Rated

5

out of

5
by
pamj
from
Great phone
I got this to replace my old LG Rebel. It was enough alike the old phone to make me happy but has all kinds of new features to make it even better. It comes with everything you need and is easy to set up through NET10. I kept my old NET10 phone number and it was very quick and easy. As for the phone the camera is amazing. Takes really great pictures. The phone is clear and makes calls without a problem. The text features so many new things that my old phone did not have with emojis and other add ons that it is fun to send things to people that before I just sent what I had to and that was all. The phone comes with pre loaded apps and the weather one especially is really nice. I am happy that I got this phone. The price is right. You can get the phone and the one month activation and have it sent home for about fifty dollars. So this is a good deal all around.
Date published: 2020-01-14
Rated

5

out of

5
by
NotNetNerd
from
Excellent compared to my old dumb phone
So much better than my old analog flip phone. A little different than the LGK2 Plus. The big drawback is the LG Rebel does not have wifi calling capabilities, the K2Plus does. But having internet through data and wifi makes up for it. Great for the price.
Date published: 2019-10-09
Rated

4

out of

5
by
Boondocks Granny
from
Inexpensive
Net10 has been emailing telling me my flip phone is going to stop working and offered this phone. It cost under $10 so why not. However, I've not switched my number over to this phone yet because of this Pandemic Covid-19. We're not going anywhere and I get good reception with my flip phone. Also my husband in his 80s will NEVER learn to use a smart phone. AND I've been doing pay-as-you-go for forever and have 2500 minutes I'd lose if I switched. Some techs at Net10 tell me the flip phone will be good until the end of the year - if any of us is still alive! At the same time I bought this, I also bought an LG Aristo 2 from Mint Mobile with 3 free months service. The phones look the same, but I can't tell if this Rebel has WiFi calling. The Aristo2 does. I paid 10X more for it. I'm thinking when I get this Rebel going, I'll just do the 1G plan for $20/month with a different phone number than the flip phone. That way, if it doesn't work where I live, I'll still have service with that flip phone. It averages to about $17/month pay as you go because I but the $30/300 min cards for 60 days. I wish Net10 offered an updated flip phone that would work with the 5G LTE network. I feel like they've sold us old people out!
Date published: 2020-03-28
Rated

5

out of

5
by
Anonymous
from
GREAT
Have used this phone for many years very happy with it so bought another one for the money it cant be beat. Very satisfied with. Net 10 had very good service.
Date published: 2020-09-18
Rated

5

out of

5
by
Anonymous
from
Great Phone
Great battery life, Very clear, All the functions you could ask for in a phone at this price. Great Phone.
Date published: 2020-09-26
Rated

5

out of

5
by
Anonymous
from
The best phone I have ever own. I hope you will get this phone back in stock bc I want to buy an extra one of it. I love it.
Date published: 2020-12-13
Rated

2

out of

5
by
Don g
from
Pre pay 30 day plan
Yeah it was nice of you to still bill my account for the 30 days allready paid when we bought the plan. Novembers payment should have been for one phone not 2..but called and waa told that we had rewards but couldn't apply to novembers payment.!!!! Thank you
Date published: 2020-11-02
Rated

2

out of

5
by
bradley
from
not what they say to be
i bought (2) phones with a 20.00 card witch was never added to the phone
Date published: 2020-11-21
Specifications
SIZE 5.70'' (H) x 2.83'' (W) x 0.31'' (D) inches
STANDBY TIME Standby time up to 12 days
WEIGHT 4.95 oz.
BAND (FREQUENCY) Technology: CDMA, LTE
INCLUDED BATTERY Removable 2,500 mAh Lithium-Ion
HEARING AID M4/T3
TALK TIME Talk time up to 16 Hrs
What's in the Box?
Includes Charger
Battery
Activation Card
Services Guide and Quick Start Guide.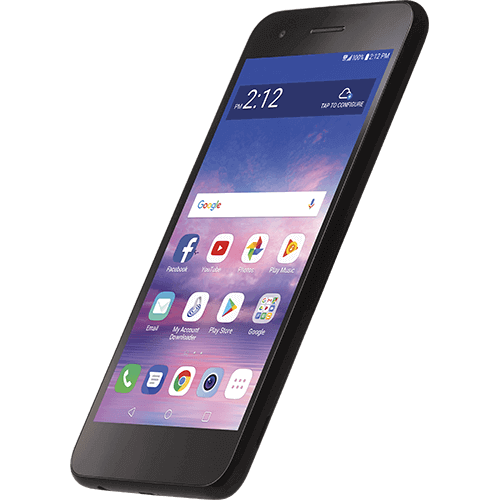 A Service Plan Required for Activation. Plans are not returnable or refundable. Text LGL212VL to 611611 for mobile tutorials.
WARNING: Cancer and Reproductive Harm - www.P65Warnings.ca.gov
More features
Android™ 8.1.0 Oreo™ MR1 OS:
With this technology, you'll be able to enjoy faster, smoother performance and heightened specs. From photos to Bluetooth capability, this operating system optimizes the entire user experience.
5-inch HD TFT (IPS) display:
Between the crystal-clear text and the rich imagery, this HD display offers the ultimate viewing adventure.
16GB internal memory:
Collect all the apps and pictures you want. Thanks to the phone's optional microSD support, there's plenty of storage available.
8MP rear camera:
Not only does the rear camera have 8 megapixels, but it's also equipped with Auto Focus Capture and zero shutter lag to help make all your snapshots better.
4G LTE network:
Fast download and streaming speeds keep you connected and entertained at all times. The phone comes with seamless Wi-Fi 802.11 b/g/n connectivity for access everywhere you go.
We are sorry but this device is not available currently!
Please add your email and we will notify you when this device can be purchased: SUBMIT
*TETHERING TO ANOTHER DEVICE IS PROHIBITED. OTHER LIMITATIONS APPLY. Please refer to your terms and conditions.