SAVE $20! Plan Purchase Required.
moto e5 (XT1920DL)
moto e5 (XT1920DL)
is rated out of
5
by
14
.
SPEED 4G LTE/Wi-Fi Connectivity
USAGE TIME Talk time up to 32 Hrs
DISPLAY 5.7'' HD+ 18:9 display
STORAGE Internal Memory 2GB RAM + 16GB ROM
CAMERA 8 MP Rear Camera/Video Recorder
DIMENSIONS 6.08'' x 2.84'' x 0.35'' inches
See more. Do more.
Long battery life, a huge display, and a great camera – what more could you ask for? The Motorola moto e5 is rugged, featuring a water-repellent coating that keeps out rain and spills. The HD Max Vision screen measures 5.7 inches, making it great for videos and games. And with a fingerprint reader and autofocus camera, all your must-have specs are packed into its slim design. Should you buy the moto e5 or a moto G6? They have the same screen size, Bluetooth functionality, and front-facing 8MP cameras. Overall, the moto e5 is the better choice if you're looking for longer battery life and a more affordable price tag.
In the next step, you will have the option to bundle your Phone with one of our no-contract plans.
A Service Plan is required for Activation. Plans are not returnable or refundable.
---
Rated

5

out of

5
by
Jorge
from
Motorola!!
I bought this phone in January. It is a great phone. Sleek and slick, fits in my hand easily! Fast, bright and no problems at all. I like the dual app option available on most apps. Watching anime or Netflix is sweet on this phone. Battery lasts all day, can last two days if only used for calls. I can listen to music all day from my phone, and still have power left over. Charges in two hours or less most of the time. A great, all around cell phone for email, web browsing, music, movies and those who are app savvy. I love how I can shake the phone to turn on the flashlight, or twist my wrist to open my gorgeous, Hd+ camera. My only gripe ia that Ram is too low for my needs. I use clean master app to clear out space, so it works out.
Date published: 2019-07-07
Rated

4

out of

5
by
Jay4400Ohio
from
Nice phone
I been using this Motorola Moto e5 Smartphone I got from Net 10 for several years now and currently on my third unit after the 2nd unit froze up and died after 1 month of use. Third unit is working "okay". Takes nice outdoor photos but indoor photos are not too good with the 8 mp rear camera & 5 mp front "selfie" camera. There is a built-in flash for indoor photography, but it's a strong flash and my indoor photos were sometimes "washed out". Nice-sized screen, pretty easy to navigate & use and overall a pretty good Smartphone. Always got a strong signal with this phone and never had a call dropped with this Motorola Smartphone.
Date published: 2020-08-20
Rated

5

out of

5
by
Anthony
from
Great phone with alot of features and very smooth touchscreen. It has decent battery life and so far I haven't been to a place I don't have service in.
Date published: 2019-10-21
Rated

5

out of

5
by
Steve 1960
from
Great. Phone
This is a great phone works great .has all the features I need in a phone great is and response time
Date published: 2019-12-18
Rated

4

out of

5
by
Davi
from
Only minus is cannot Cast to my SmartTV
First let me explain why only 4 out of 5 stars...I use Casting a lot. My tablet does it, and my old phone did too. This one DOES cast but only via specific apps that are enabled to Cast, like Youtube and so forth. But directly cast (Miracast, etc), the phone to TV? No, it cannot. Part of me wishes I would've gone for the Samsung J7 Crown, but pressed for cash this was actually the BEST alternative (I'll explain that next). Having said that, it's been a stellar product. Originally bought one first to replace my wife's aging LG 306g, which as a basic phone was "fine" but literally could not expect much from it past basic non-MMS texting, and voice calling. I dropped my Alcatel POP 4s in a very untimely incident and my original thought was to get myself another Moto e5 until Black Friday deals. Don't regret my decision one bit. I was going for a Moto G7 but now that I've learned about their inability to Cast (again, yes via YouTube, other apps, just not entire phone mirroring), I definitely won't be getting that G7 afterall. Android Auto works beautifully. It may be "slower" on paper than my Alcatel, but in practice using it every day the Moto e5 runs better...Qualcomm > MediaTek using the same 2GB Ram: for some reason the Moto manages itself way better than the Alcatel did. I don't use a lot of apps at one time but yes, once in a while I can still tell that it would be nicer with more RAM. But whereas the Alcatel would die out when overburdened, the Moto still carries on, same usage patterns considered. Also storage is only 16GB...by the time all updates and all my required apps were installed I had it already at 12GB (or about 75-80 percent full), but I don't use a lot of apps so I haven't thought of ways to fill up storage yet. Tried a Marvel game that took an eternity to load but other less-intense games play OK (maybe not at the max res. setting either). Would I recommend this phone to anyone? YES. It does not disappoint. As a daily "work" phone, it does more than enough. If you're a poweruser then no, you will need a phone that probably does 64GB storage and 4GB RAM with a nice processor to match. It is definitely a step up from my Alcatel POP4s, saved me from dumping money on a $300+ Motorola I would've HATED for not Casting, and honestly, if I can't find another BYOP to go after Black Friday, I won't feel bad in keeping this one.
Date published: 2019-10-25
Rated

4

out of

5
by
Anonymous
from
First smart phone.
This is my first smart phone, having used a flip phone for years. Set up was easy. Using the phone has not been much of an issue. I'm still learning, but I think I have figured out most things. I give it 5 stars because it is so new to me.
Date published: 2020-10-07
Rated

4

out of

5
by
Michelle M
from
Great phone, great value
I'm actually really happy with it. Very fast, great battery life. The camera takes awesome pictures, though I do not like how long it takes to capture the photograph. In all, it's a great phone, especially for the price I paid.
Date published: 2020-12-18
Rated

3

out of

5
by
Jumlucky
from
Nice phone. Picky charge port.
Like the phone very much. Good sized display. Good looking. Works very well... except for the charging port. I've never had a phone that is this picky about charging.
Date published: 2021-02-17
Specifications
SIZE 6.08'' x 2.84'' x 0.35'' inches
STANDBY TIME Standby time up to 10 days
WEIGHT 6.1 oz.
BAND (FREQUENCY) Technology: CDMA/LTE
INCLUDED BATTERY Built-in Battery Lithium-ion 4000 mAh
HEARING AID M3/T3
TALK TIME Talk time up to 32 Hrs
What's in the Box?
Includes Charger
Battery
Activation Card
Services Guide and Quick Start Guide.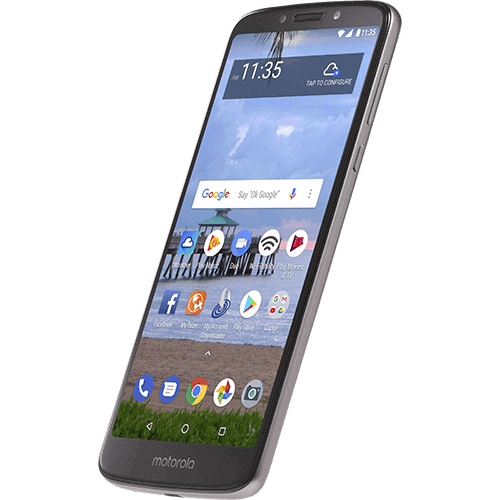 A Service Plan is required for Activation. Plans are not returnable or refundable.
WARNING: Cancer and Reproductive Harm - www.P65Warnings.ca.gov
More features
Android™ 8.1 Oreo™ OS:
Enjoy smooth, fast, reliable performance. Extra security measures and better Wi-Fi connectivity help enhance the wireless experience further.
16GB ROM/2GB RAM:
If you need more storage to hold your photos and downloads, just get the expandable microSD memory card. It bumps you up to 128GB.
8MP camera:
Autofocus allows you to capture quick, clean photos. With minimal blurriness, your gallery will be ready to upload and share with friends right away.
4000 mAh battery:
The battery is non-removable and big enough to power you all throughout the day. It charges fast, too, thanks to TurboPower, to help get you back to 100% in no time.
5.7-inch Max Vision display:
The Max Vision display does exactly what it says: maximizes your screen with vivid colors and sharp details.
We are sorry but this device is not available currently!
Please add your email and we will notify you when this device can be purchased: SUBMIT
*TETHERING TO ANOTHER DEVICE IS PROHIBITED. OTHER LIMITATIONS APPLY. Please refer to your terms and conditions.